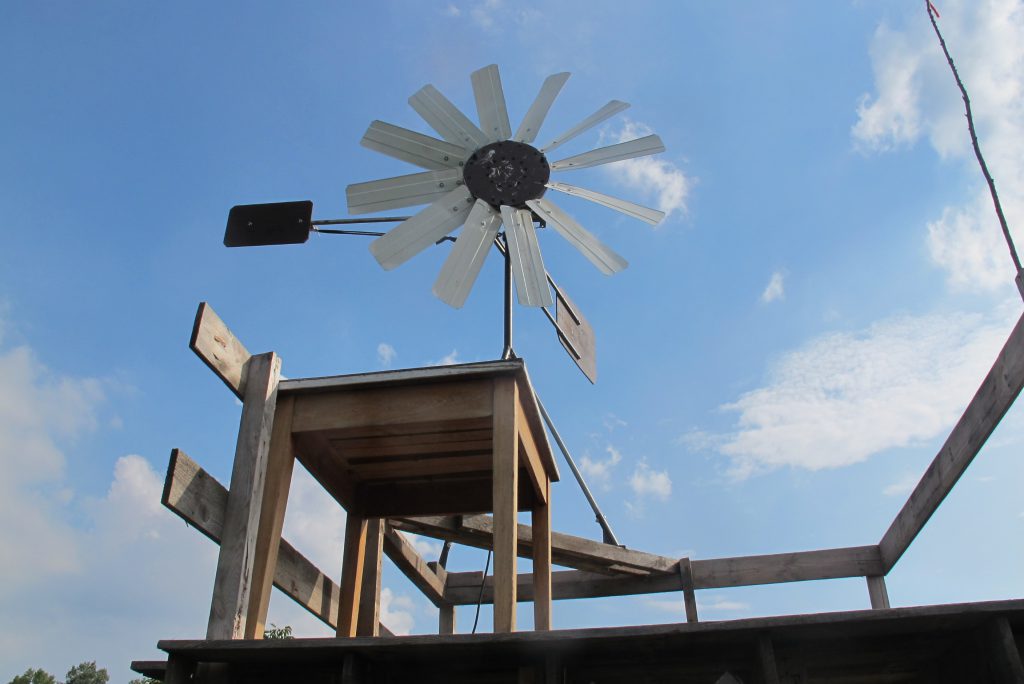 English below.
Ocalmy Turbinę Wiatrową!
Rankiem 4 sierpnia 2016 przedstawiciele firmy deweloperskiej Dom Development przybyli do ogrodów ROD. Przecięli kłódkę na drzwiach I weszli na teren nie informując o tym działkowiczów. Następnie powiedzieli że otrzymali od PINB (Powiatowy Inspektor Nadzoru Budowlanego) pismo wzywające ich do zburzenia nielegalnej budowli. Uznali oni że tą budowlą są Turbina Wiatrowa i wieża. Przekazali nam że zostaną one wyburzone w ciągu tygodnia.
Turbina wiatrowa jest istotną częścią ogrodów ROD. Ogrody ROD pracują nad hodowlą dobrego jedzenia w centrum Warszawy. Turbina Wiatrowa zapewnia czystą energię do tego projektu. Została ona ostrożnie I bezpieczne zbudowana z wysokiej jakości materiałów pochodzących z recyklingu. Korpus turbiny jest zrobiony z używanej pralki. Ta budowla była przedmiotem warsztatów: Szkoła Ogrodników Miejskich. Ludzie przyszli żeby nauczyć się zasady działania Turbin Wiatrowych i zobaczyć jak nasza konstrukcja została zbudowana. Warsztaty miały na celu szerzenie wiedzy o odnawialnych źródłach energii i nabycie podstawowych umiejętności konstrukcyjnych.
Obecnie Dom Development twierdzi że są zobiwiązani do zniszczenia budowli.
Jeśli masz doświadczenie z PINB i uzyskiwaniem pozwoleń budowlanych w Warszawie proszę skontaktuj się z nami.
0048 5356 78796
radicalallotmentgardens (at) riseup.net
Bartycka 24/26, Warschau
Czekajcie na kolejne aktualizacje.
Ocalmy Turbinę Wiatrową!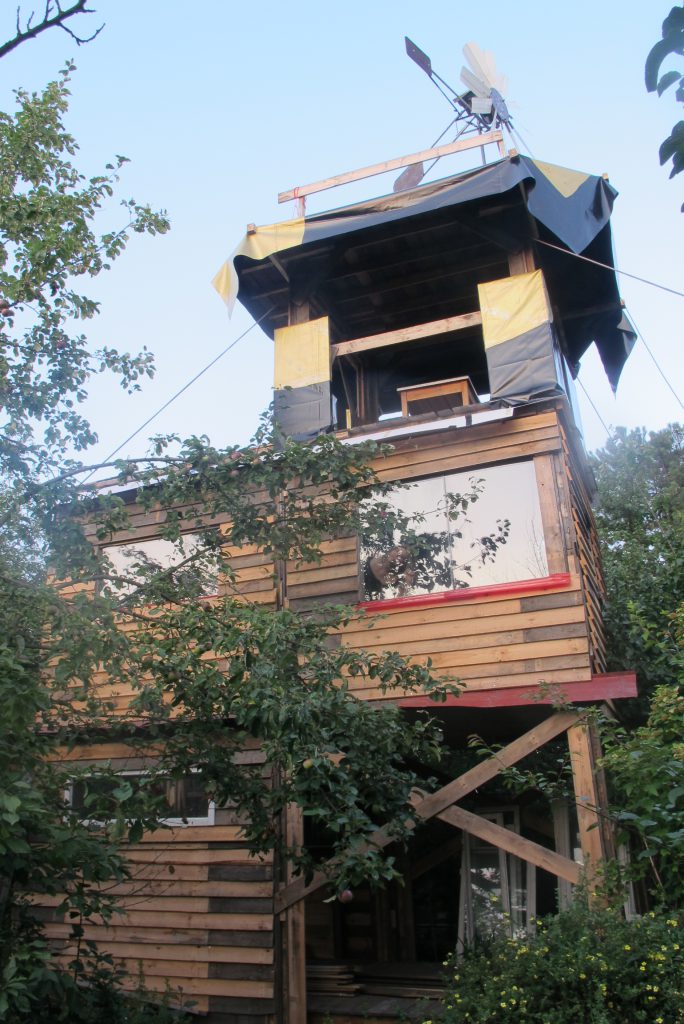 EN:
On the morning of 4th Aug 2016, representatives of building development company Dom Development came to ROD gardens. They cut the lock on the door and entered without informing the gardeners of their arrival. Gardeners asked them why they were there. They said PINB (Powiatowy Inspektor Nadzoru Budowlanego – District Construction Supervision Inspector) had sent them written notice that they need to destroy an unauthorised building. They identified this building as the Windturbine and Tower. They said it would be demolished in 1 week!
The Windturbine is an important part of the ROD gardens. ROD gardens are working to grow good food in Warsaw city centre. The Windturbine provides clean energy to the project. It was carefully and safely built using high quality recycled materials. The wind turbine itself is made from a recycled washing machine. This construction was the subject of the Szkoła Ogrodników Miejskich (Urban Garden School) 2016. People came to learn how the wind turbine works and had been built. The workshop shared knowledge of renewable energy and basic building skills.
Now Dom Development claim that they must destroy the construction.
If you have experience with PINB and planing permission in Warsaw please contact us:
0048 5356 78796
radicalallotmentgardens (at) riseup.net
Bartycka 24/26 Warschau
Keep your ears open for more updates.
Save the Windturbine!