Już za dwa tygodnie widzimy się we Freiburgu! Dzisiaj mamy dla was kilka informacji dotyczących kontentu i logistyki. Prosimy, zapoznajcie się z tymi informacjami, abyśmy mogli i mogły przgotować to spotkanie zgodnie z waszymi potrzebami i zainteresowaniami.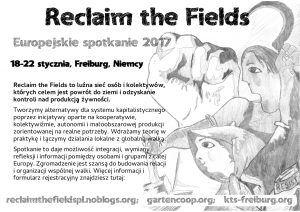 Propozycje programowe
Przygotowaliśmy listę tematów, o których możemy dyskutować podczas spotkania. Część z nich to propozycje od grupy organizacyjnej (Carrots), a część to propozycje przesłane przez formularz zgłoszeniowy. Zależy nam aby jeszcze przed spotkaniem dostać od was informację zwrotną co sądzicie o tych propozycjach, i które są dla was najbardziej interesujące. Prosimy poświęćcie trochę czasu i zastanówcie się nad tym, a potem dajcie nam znać. Oczywiście będziemy o tym rozmawiać podczas pierwszego dnia spotkania, ale im więcej informacji zgromadzimy wcześniej, tym lepiej wszystko przygotujemy.
Pamiętajcie, to nie jest gotowy program. To tylko propozycje, które wciąż musimy przedyskutować.
Propozycje dotyczące sieci Reclaim the Fields:
historia RtF
ewaluacja ubiegłego roku
spotkanie grup regionalnych
dyskusja o biuletynie RtF
dyskusja na temat finansów
prezentacja narzędzi internetowych (crabgrass, strona internetowa RtF)
obóz Reclaim the Fields i następne europejskie spotkanie
prezentacja grup
Propozycje dyskusji:
walka przeciwko GMO w Szwajcarii i reszcie Europy
zrównoważone farmy koletywne – wymiana doświadczeń
jak wspierać się wzajemnie i jakie represje nas dotykają
prezentacja Bure, Wentland i lasu Hambacher
rolnictwo, a migracje
kwestia gender w rolnictwie
G20 w Hamburgu – jak wprowadzić pytania o przyszłość rolnictwa
dostęp do ziemi
budowa sieci między zaangażowanymi społecznościami wiejskimi
sieć niezależnych banków nasion
Inne aktywności:
wizyta na farmie CSA we Freiburgu
soli-impreza z represjonowanymi przyjaciółmi z Polski
warsztaty: diy'owa produkcja grzybów
warsztaty: jak kltywować mikro-organizmy
wymiana nasion
warsztaty: bezpieczeństwo w sieci (warsztaty odbędą się dzień przed rozpoczęciem spotania – 17. stycznia)
Czekamy na waszą informację zwrotną i jednocześnie zapraszamy do włączania się w facylitację spotkania.
Logistyka
– Kiedy zaczynamy?
Planujemy rozpocząć spotkanie 18. stycznia po obiedzie. Centrum społeczne, które gości to wydarzenie jest zarezerwowane od 17. do 22. stycznia, więc byłoby dobrze jeśli przyjedziecie już 17. lub najpóźniej 18. rano. Informacje o KTS I o tym, jak dojechać na miejsce znajdziecie w poprzednim tekście zapraszającym: http://reclaimthefields.noflag.org.uk/?page_id=1390&lang=pl
– Co zabrać ze sobą?
Zakwaterowanie jest zaplanowane w kilku miejscach. Większość z nas zostanie w centrum KTS, ale dostępne są również miejsca w pobliskich hause projektach. Pamiętajcie żeby zabrać ze sobą śpiwory i karimaty. Możecie również zabrać ze sobą nasiona na wymianę oraz ulotki, ziny lub inne materiały, którymi chcecie się podzielić.
– Transport
Jeśli planujecie przyjechać samochodem i macie jeszcze wolne miejsca lub poszukujecie transportu, zapraszamy was do zaglądania na specjalnego pada dotyczącego car-sharingu: https://mensuel.framapad.org/p/orga_repas
– Potrzeby
Jeżeli macie jakiekolwiek specjalne potrzeby dotyczące jedzenia, zakwaterowania, języka, itp. Prosimy skontaktujcie się z nami przez maila: contactrtf@riseup.net
Do zobaczenia we Freiburgu!
Carrots (grupa organizacyjna)
PS Nie zapomnijcie zarejestrować się przed przyjazdem: http://reclaimthefields.noflag.org.uk/?page_id=1379