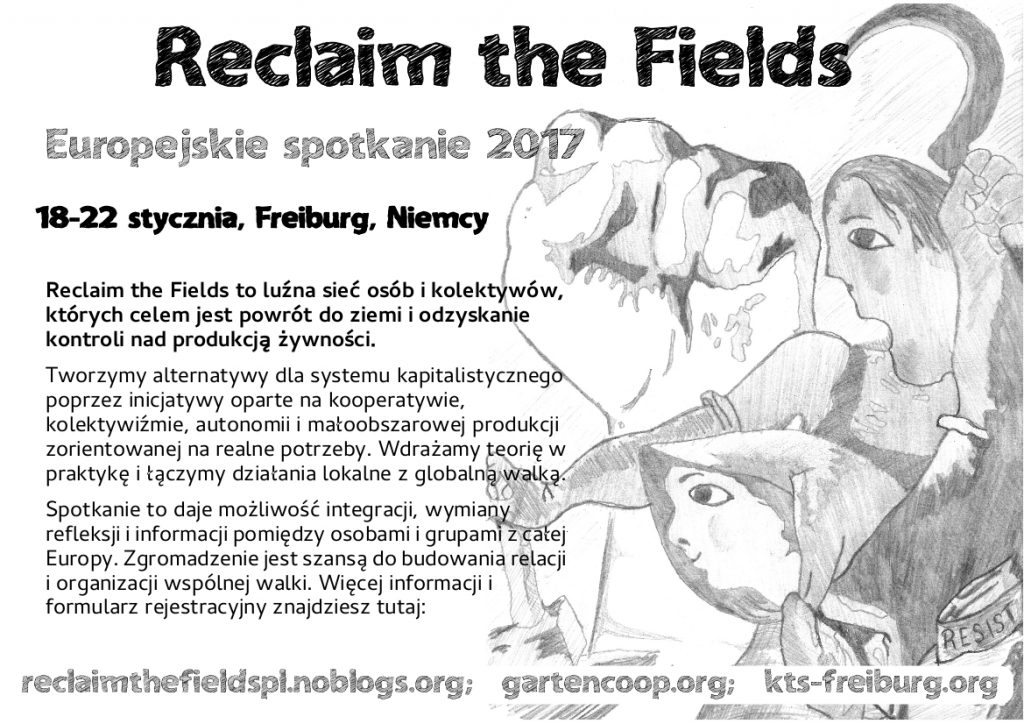 Drogie, Drodzy,
Zapraszamy Was na europejskie spotkanie Reclaim the Fields 2017, które odbędzie się 18-22 stycznia we Freiburgu,w Niemczech. Gospodarzami i gospodyniami spotkania będą osoby z projektu GartenCoop, a samo wydarzenie odbędzie się w niezależnym centrum "KTS".
http://www.gartencoop.org/tunsel/
http://www.kts-freiburg.org/spip/spip.php
*** O spotkaniu ***
Spotkania takie odbywają się co roku w sezonie zimowym. Zwykle gromadzą osoby i kolektywy związane z siecią Reclaim the Fields, jednak każdy i każda z Was jest mile widziana.
Celami spotkania są:
poznanie się projektów i grup lokalnych z całej Europy;
wymiana informacji o wydarzeniach z ubiegłego roku;
wymiana doświadczeń oraz debata na ważne dla nas tematy dotyczące Europy i innych rejonów;
refleksja nad działaniem sieci: jakie decyzje podjęliśmy rok temu, co zostało zrealizowane, co chcemy i co powinnyśmy kontynuować, jakie mamy plany na przyszłość.;
dobra zabawa i budowanie relacji między nami.
Ostatnie spotkanie odbyło się w styczniu 2016, w Warszawie, i goszczone było przez kolektyw ROD. Więcej o spotkaniu znajdziesz w najnowszym biuletynie Reclaim the Fields: http://reclaimthefields.noflag.org.uk/?page_id=1432
*** Rejestracja ***
Jeśli ty lub grupa, której jesteś członkiem/członkinią chciałaby wziąć udział w najbliższym spotkaniu, wystarczy wypełnić formularz rejestracyjny. Jest to bardzo ważne dla osób organizujących to wydarzenie, aby wszystko zostało dobrze przygotowane.
Jeśli masz jakiekolwiek sugestie dotyczące programu, w formularzu rejestracyjnym znajdziesz odpowiednie miejsce, w którym możesz o nich napisać.
Formularz rejestracyjny znajdziesz na stronie: http://reclaimthefields.noflag.org.uk/?page_id=1379
*** Kontekst lokalny ***
W tym roku spotkanie odbędzie się we Freiburgu w Niemczech, nazywanym "zielonym miastem". Pełen sprzeczności kapitał ekologiczny stanowił dużą część wzrastającego ruchu anty-nuklearnego, który w latach 70. zaczął od sprzeciwnienia się budowie elektrowni atomowej w Wyhl. Ale nawet jeśli przez całe lata 80. ważną rolę odgrywały ruchy ekologiczne, skłoterskie czy feministyczne, ruchy społeczne stopniowo traciły na znaczeniu, tak jak w większości miast zachodnio-europejskich po upadku muru berlińskiego.
Dzisiaj, w 220 tys. mieście znajduje się duża liczba alternatywnych instytucji i projektów, np. lewicowe media (rdl.de, cinerebelde.org, linksunten.indymedia.org), ruch lokatorski (syndikat.org, schattenparker.net), antyrasistowski (aktionbleiberecht.de, iz3w.org, freiburger-forum.net), czy działania na rzecz alternatywnych metod produkcji żywności (gartencoop.org, lebensgarten-dreisamtal.de, luzernenhof.de). Jednak "zielone rewolucje" z lat 70. wciąż mają we Freiburgu i jego okolicach siłę, a kłamstwa zielonego kapitalizmu są dalej powtarzane przez uzdolnionych aktorów neoliberalizmu i represji.
Osoby, które będą gospodarzami i gospodyniami spotkania RtF są zaangażowane w rolniczą kooperatywę GartenCoop oraz w inne wskazane wcześniej walki. Autonomiczne centrum socjalne KTS Freiburg istnieje od połowy lat 90. i zostało zalegalizowane 18 lat temu. Największa część spotkania odbędzie się właśnie w tym centrum, a częścią programu będzie wizyta na pobliskich farmach i projektach. Spedzimy trochę czasu na polach szparagów, truskawek i kukurydzy, a osoby pragnące ruchu lub rozmowy będą mogły udać się na spacer do pobliskiego lasu.
*** Informacje praktyczne ***
Freiburg znajduje się pomiędzy Colmarem, Basel i Offenburgiem. Najlepiej można tu dojechać pociągiem, busem lub samochodem (autostrada A5).
https://www.openstreetmap.org/relation/62768#map=11/47.9874/7.7963
W pobliżu dostępne są także lotniska – w Zurichu, Basel/Mulhouse albo w Strasbourgu (wszystkie około 47-70 minut jazdy).
We Freiburgu możecie złapać autobus nr 11 lub tramwaj nr 5 (lepiej). Wysiadacie na przystanku "Pressehaus".
Centrum KTS znajduje się za mostem kolejowym, powyżej głównej drogi. Musicie wejść po schodach, które znajdziecie po lewej stronie za mostem.
Adres i kontakt:
KTS, Baslerstrasse 103, 79100 Freiburg, +0049 /0/ 761 / 400 20 96
https://www.openstreetmap.org/search?query=kts%20freiburg#map=19/47.98607/7.83100
W zależności od ilości uczestników i uczestniczek, zakwaterowanie będzie zdecentralizowane. Około 40 osób może spać w KTC, kolejne zatrzymają się w innych house – projektach, na wagon-placach lub w prywatnych mieszkaniach. Mamy ograniczone możliwości dla osób z niepełnosprawnością.
W centrum znajdują się łazienki, średniej wielkości kuchnia, pokój komputerowy, sitodruk i wolny sklep. Od zaprzyjaźnionych kooperatyw dostaniemy warzywa, a nawet mamy nadzieję, że kooperatywa piekarnicza będzie mogła zrobić dla nas chleb.
*** Kontakt ***
Zachęcamy do dzielenia się tym zaproszeniem wśród osób i grup, którym cele Reclaim the Fields są bliskie i które chcialyby włączyć się w działania sieci.
Możecie się z nami skontaktować przez adres: contactrtf@riseup.net
Mamy nadzieję – zo zobaczenia wkrótce!
Carrots (grupa organizacyjna)