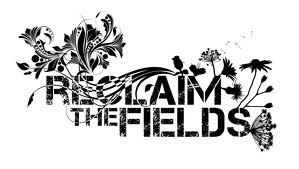 Reclaim the Fields to luźna sieć radykalnych projektów ekologicznych. Wspólnym mianownikiem jest walka o wyłączenie ziemi z rynku, sprzeciwiając się spekulacjom gruntami i żywnością. Wśród inicjatyw składających się na RtF są kolektywy okupujące ziemię, nomadzi i zwykli ludzie wspierający tego typu projekty. Różnorodność zajmowaniaziemi jest ogromna, zależna od miejsca, kontekstu społecznego i charakteru kolektywu. Jednym z najbardziej znanych tego typu miejsc jest La ZAD we Francji, w pobliżu Nantes. Trwające tam protesty przeciwko budowie lotniska mającego powstać na miejscu kilku wsi, z biegiem czasu przekształciły się w okupację tego terenu przez około 200 aktywistów przy silnym wsparciu miejscowych rolników. Protesty w samym mieście, jak i aktywna blokada terenu przeznaczonego pod lotnisko, przyciągały tysiące protestujących. Jednocześnie na okupowanym terenie zawiązało się kilkanaście kolektywów rozpoczynając niezależnie uprawy.
W podobnym kontekście politycznym powstała również Eco Village Grow Heathrow na terenach należących do londyńskiego lotniska Heathrow. Grupa aktywistów przy wsparciu lokalnej społeczności okupuje teren na którym miałby powstać trzeci pas startowy, przeciwstawiając się jego budowie. Innym przykładem jest Yorkley Court Community Farm we wsi Yorkley w Forest of Dean, w Południowej Anglii. Do sieci przejętych terenów w RtF należą kolektywy głównie z Wielkiej Brytanii, Francji, Niemiec i Hiszpanii oraz wielu ludzi z całej Europy.
RtF powstało w 2007 roku po protestach rolniczych organizowanych przez międzynarodowy "związek związków" rolniczych La Via Campesina (Droga Chłopa lub Chłopska Droga), zajmujący się obroną praw rolników i pracowników rolnych. To właśnie Via Campesina jako pierwsza zasłynęła z taktyki okupowania ziemi przez protestujących. Po 2007 roku związkowcy Via Campesina postanowili wykorzystać wywalczoną przez lata siłę i autorytet by domagać się swoich praw bezpośrednio od polityków i instytucji. Tym samym charakter jej działań (choć nie postulatów) stracił na radykalności. Jednak grupa aktywistów z różnych krajów postanowiła kontynuować radykalne tradycje rozszerzając również zakres działalności. Dlatego w manifeście założycielskim RtF mowa jest nie tylko o chłopach i pracownikach rolnych, ale także o tych, którzy chcą powrotu "do ziemi".