Grabież ziemi – zagrożenie dla niezależności żywieniowej
Na całym świecie drobni rolnicy nieustannie walczą o prawo do produkcji żywności na użytek własny oraz społeczności lokalnych. Wszędzie prawu temu zagraża polityka wolnego rynku i zasady narzucane przez Światową Organizację Handlu (WTO) oraz międzynarodowe standardy bezpieczeństwa żywności (IFS – International Food Standard). Zmuszają one rolników do upraw głównie na eksport, oraz regulują ceny tj. pozwalają na sprzedaż produktów po bardzo niskich cenach.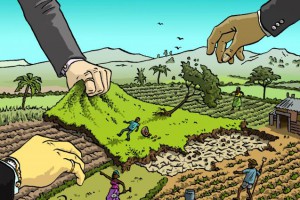 Od wielu lat drobni rolnicy walczą z akumulacją własności ziemi i domagają się reformy rolnej. Rządy starają się kryminalizować ruchy walczące o odzyskanie ziemi. Chętniej współpracują z obrońcami i beneficjentami własności prywatnej, niż słuchają głosów opowiadających się za reformą agrarną i niezależnością żywieniową.
Rządy i prywatne firmy kradną ziemię
Na przestrzeni ostatnich piętnastu lat znacząco wzrosła liczba inwestycji prywatnych i rządowych związanych z ziemią. Rządy oraz firmy prywatne pozyskują wielkie obszary ziem żyznych, zwłaszcza w Azji oraz Afryce, a także w Ameryce Południowej oraz Europie Wschodniej. Ziemie te przeznaczają na produkcję rolną – głównie na eksport. Kryzys żywnościowy wraz ze światowym kryzysem finansowym znacząco przyczyniły się do zintensyfikowania tego niepokojącego zjawiska.
Z jednej strony mamy państwa z długoterminowym planem zabezpieczania żywności dla ludności je zamieszkującej. Są to Chiny, Japonia, Malezja, Korea, Zjednoczone Emiraty Arabskie. Zawłaszczają one ziemie w celu produkcji taniej żywności na eksport. Często działają w myśl zasady restrukturalizacji lub "outsourcingu" krajowej produkcji żywności. Na przykład dla Korei bardziej opłacalnym wydaje się uprawianie taniej żywności w Kambodży, by następnie ją stamtąd importować, niż produkować żywność we własnym kraju. Z drugiej strony stoją prywatni inwestorzy, duże korporacje, zagraniczne spółki – w tym rządowe, traktujące ziemie jak nowe źródło bezpiecznych inwestycji. Grabią ziemię w celu tworzenia wielkich monokultur dla rynku biopaliw, sprzyjają handlowi emisją dwutlenku węgla . Kontrowersyjne umowy w sprawie ziemi są zawierane potajemnie, bez konsultacji z społecznościami lokalnymi.
Raport Banku Światowego na temat grabieży ziemi
8 września 2010 roku Bank Światowy zdecydował się opublikować raport dotyczący grabieży ziemi. Zaskakującym jest, że dotarcie do szczegółowych informacji okazało się trudnym zadaniem nawet dla Banku Światowego – instytucji utrzymującej bliską współpracę z organami rządowymi i światkiem wielkiego biznesu.
Raport ujawnia brak przejrzystości większości umów dotyczących sprzedaży ziemi. Pokazuje on także jak bardzo umowy te zagrażają lokalnym społecznościom i ich prawom. Ponad to, raport zwraca uwagę na znaczenie drobnych rolników. Mimo tego, zamiast potępiać ataki na wolność i prawa społeczeństw, Bank Światowy w dalszym ciągu utrzymuje, iż grabież ziemi oraz przemysłowe rolnictwo na wysoką skalę po prostu się opłacają.
Jednak to nie Bank Światowy, a właśnie drobni producenci żywności karmią świat, i jak pokazują różne badania, to właśnie one i oni są w stanie wyprodukować więcej żywności w przeliczeniu na hektar niż wielkie przedsiębiorstwa rolnicze.
Bank Światowy zdaje się usprawiedliwiać grabież ziemi potrzebą zwiększeniu produktywności ziemi (więcej plonów) poprzez użycie nietrwałych modeli rolniczo-biznesowych. W 2010 roku razem z Organizacją Narodów Zjednoczonych do Spraw Wyżywienia i Rolnictwa (FAO), Międzynarodowym Funduszem Rozwoju Rolnictwa (IFAD), Konferencją Narodów Zjednoczonych ds. Handlu i Rozwoju (UNCTAD), Bank Światowy opublikował zbiór reguł dla tzw. "społecznie odpowiedzialnych" grabieży ziemi (RAI). Jest to siedem zasad skonstruowanych tak, aby wydawały się przekonywujące i zachowywały przynajmniej znikome pozory rozsądku. Wyrywanie ziemi z rąk lokalnych społeczności i oddawanie jej w ręce korporacji na użytek eksportu oraz przemysłowych upraw monokulturowych czy zabudowy mieszkalnej nigdy nie będzie "korzystne" ani dla tych społeczności, ani tym bardziej nie przyczyni się do wzrostu niezależności żywieniowej.
Morderstwa na całym świecie – cena zawłaszczania ziemi
Raport opublikowany przez World Witness "A Hidden Crisis? Increase in killings as tensions rise over land and forests" zwraca uwagę na nasilenie przemocy skierowanej w aktywistów działającym na rzecz ochrony ziemi i lasów. Global Witness policzyło, ile osób zostało zamordowanych w latach 2002-2011, w trakcie próby chronienia swoich praw lub obrony środowiska. Na całym świecie znaleziono 711 opisanych zabójstw, co oznacza ponad jedno na tydzień (podkreślić należy słowo "opisanych", gdyż zakładać możemy, że jest to jedynie pewien procent dokonywanych morderstw) . W tym 106 osób zostało pozbawionych życia w roku 2011, czyli prawie dwa razy więcej niż w 2009. przyczyną śmierci tych ludzi był udział w protestach, prowadzenie śledztw lub składanie skarg przeciwko m.in. działaniom górniczym, rolnictwu przemysłowemu, budowaniu tam, miejskim deweloperom czy kłusownikom. Systematycznie ujawniane kolejne morderstwa w wielu krajach pokazują przerażający brak kontroli nad tym procederem i poczucie bezkarności rządów i korporacji.