english below / deutsch unten / francais la bas /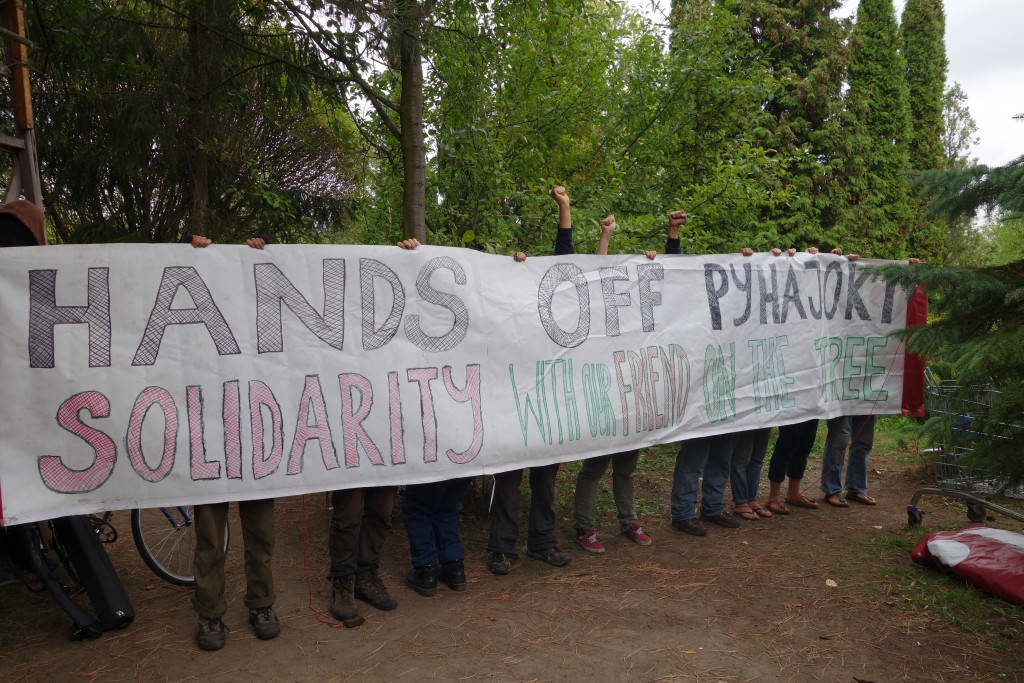 W akcie solidarności z antynuklearnym protestem w Północnym Ostobothin w Finlandii, aktywiści w Warszawie powiesili banner przed ambasadą fińską. Protest jest częścią walki o zablokowanie firmy Fennovoma od budowania katastrofalnej w skutkach dla środowiska elektrowni tomowej na przylądku Hanhikivi. Jest to obszar o wielkim znaczeniu ekologicznym, z wieloma rzadkimi i chronionymi gatunkami i ekosystemami. Brutalna ewikcja protestu antynuklearnego nastąpiła 15 września za sprawą policji współpracującej z lokalną firmą ochroniarską Arlia i G4S. Jedna osoba skutecznie okupuje drzewo na proponowanym terenie budowy, i wciąż tam jest (21 września). Osobie tej odmówiono dostępu do wody i jedzenia.
Żądamy wstrzymania budowy tak szkodliwego projektu projektu. Żądamy zaprzestania przemocy wobec ludzi z Hanhikivi broniących swojego prawa do życia w zdrowym środowisku.
Więcej informacji na temat oporu w Hanhikivi: www.hyokyaalto.net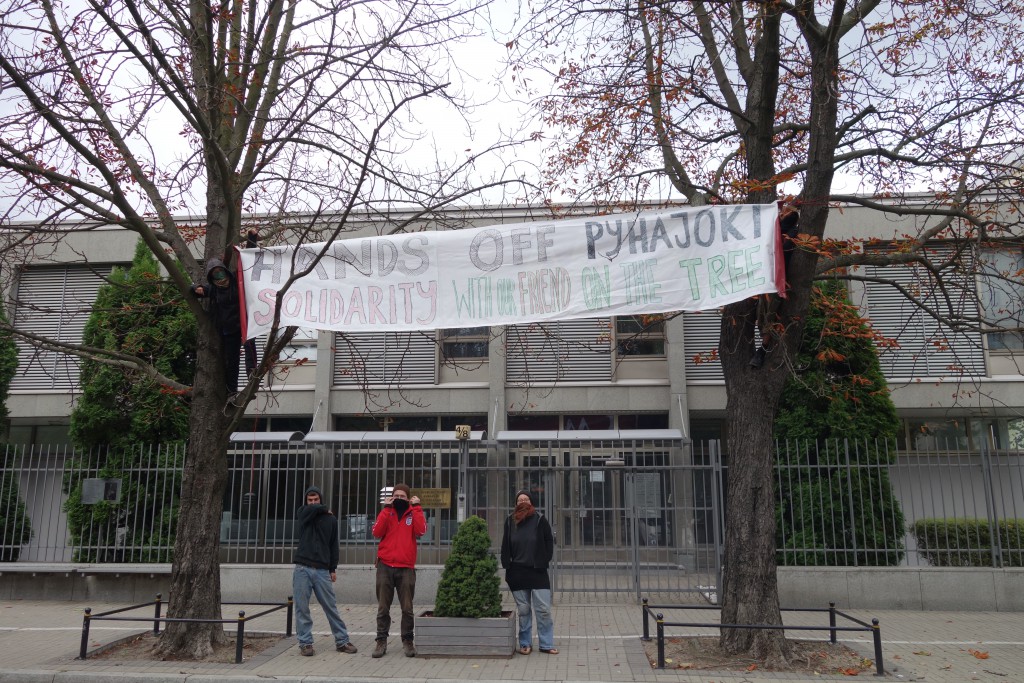 EN:
Solidarity with anti-nucleur activists in Hanhikivi: 21st September 2015
In an act of solidarity with the Anti-Nuclear Power Camp in Northern Ostobothin, Finland, activists in Warsaw hung a banner in view of the Finnish Embassy. The camp is part of the struggle to block energy company Fennovoma from building an ecologically disastrous nuclear power plant on the Hanhikivi Cape. This area is of vital ecological importance with many rare and endangered species and ecosystems. The anti-nuclear camp in Hanhikivi was violently evicted on 15th Sept by police working together with guards from local security company Arlia and G4S. In resistance to this eviction one person sucessfully occupied a tree on the proposed building site and as of 21 Sept, is still there. The person is being denied access to water and food.
We demand that the building of this devestating project is stopped.
We demand that the violence against the people in Hanhikivi protecting their right to a healthy environment is stopped.
More info about the resistance in Hanhikivi: www.hyokyaalto.net
FR:
Solidarité avec les activistes anti-nucléaire à Hanhikivi : 21 septembre 2015
En solidarité avec le camp anti-nucléaire de Pyhäjoki, dans le Nord Ostobothin (Finlande), des activistes ont accroché une bannière devant l'ambassade de Finlande à Varsovie. Le camp a pour but de bloquer l'entreprise énégertique Fennovoma qui prévoit de construire un réacteur nucléaire sur le Cap de Hanhiviki, ce qui serait désastreux pour une région recellant d'un écosystème et d'espèces menacés et protégés. Le camp anti-nucléaire a été expulsé violemment le 15 septembre par la police et les forces de sécurité des entreprises Arlia et G4S. En résistance à cette expulsion un_e activiste occupe un arbre sur le futur terrain de construction – et à ce jour, le 21 septembre – s'y trouve encore. L'accès à l'eau et à la nourriture lui sont réfusés.
Nous exigeons l'arrêt de la construction de ce projet dévastateur.
Nous exigeons l'arrêt des violences contre les habitant_e_s de Hanhikivi, qui se battent pour protéger leur droit de vivre dans un environnement sain.
Pour plus d info sur la résistance à Hanhikivi : www.hyokyaalto.net
DE:
Solidarität mit den Anti-Nuklear Aktivisten in Hanhikivi: 21ten September 2015
Als Solidaritätsbekundung mit dem Anti-Atomkraft Camp im Pyhäjoki hingen Aktivisten in den Bäumen vor der finnischen Botschaft in Warschau ein Plakat auf, um gegen den geplanten Atomkraftwerksbau zu protestieren und auf die aktuelle Situation in Nordosten Finnlands aufmerksam zu machen.
Das Camp ist Teil des Kampfes gegen den am Hanhikivi Kap vom Energiekonzern Fennovoma geplanten Atomkraftwerksbau, der ökologisch verheerende und langfristig nicht absehbare Folgen für die Region, deren bisher intakte Ökosysteme zahlreiche seltene und bedrohte Tier- und Pflanzenarten beheimaten, mit sich bringt. Das Anti-Nuklear Camp wurde am 15ten September gewaltsam durch die Polizei und Sicherheitskräfte der Firmen Arlia und G4S geräumt. Als Reaktion auf diese Räumung gelang es einer Person auf der geplanten Baustelle einen Baum zu besetzen. Die Besetzung hält bis jetzt (Stand 21ter September) trotz des verwehrten Zugangs zu Wasser und Essen erfolgreich an.
Wir verlangen, dass der Bau dieser katastrophalen Projektes gestoppt wird.
Wir verlangen, dass die Gewalt gegen die Menschen in Hanhikivi, die für ihr Recht auf eine gesunde Umwelt kämpfen, aufhöhrt.
Mehr Infos über den Widerstand in Hanhikivi: www.hyokyallto.net